And the Government's Hot-Air Response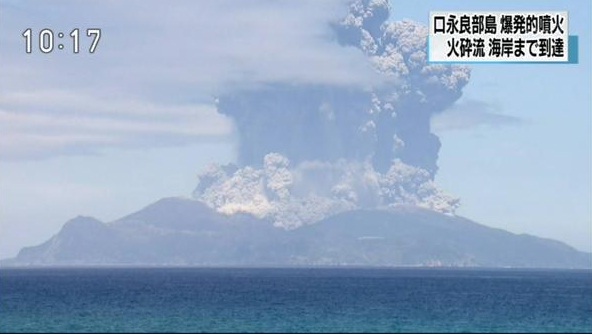 Below are a few excerpts in quotation marks.
The keen insights in italics are mine.
"More than 100 people have been ordered to evacuate after a volcano erupted on the tiny southern Japanese island of Kuchinoerabu on Friday morning."
Ordered to evacuate.
Huge volcanic eruption on a tiny island and the authorities think they need to tell people to get the hell out of Dodge? This is what a government selfie looks like.
"Spectacular TV footage captured the moment Mount Shindake exploded, sending columns of thick, black smoke high into the air."
Guys, the smoke in that 'spectacular' footage is medium gray. At best.
"Japan's meteorological agency raised the alert level to five – the highest on its scale…"
A massive eruption ranks a five. Wow. Tricky algorithm there.
"The agency said no injuries or damage had been reported following the eruption…"
I know, right? People just don't think to give the meteorological agency a call when they're running like hell for their lives.
"The agency added that pyroclastic flows, dense currents of rock fragments and hot gases from the volcano had reached the island's north-west shore."
Fancy language to make people forget these people giving their important little evacuation orders are hiding under their desks at agency headquarters in Tokyo.
Mount Shindake is on
Kuchinoerabu island, located in the middle of the strange round circle there in the bottom center..
"In Tokyo, the prime minister, Shinzo Abe, set up an emergency response team…"
All the natural disaster shit that goes on in this country and they don't have an emergency response team already set up?
"and dispatched a self-defence forces to the island."
Nice grammar. And spelling. Can't wait to see how these guys defend against the pyroclastic flows, the flying rocks and the hot gases. "Stop it! Stop it! Please, cut it out!..."
"Abe said he had instructed local authorities to do "everything possible" to ensure the islanders' safety."
Another government selfie. Thanks for the tip Shinzo.
All right let's skip to the end and put this report out of its misery.
"
Authorities in Japan, which is dotted with

active volcanoes

, are taking a more cautious approach following criticism that they had failed to warn hikers of increased volcanic activity before the Ontake tragedy last September."
Waving their verbal selfie stick around while they put together their emergency response team. A few words come to mind here. None of them is 'cautious'.
Note: I live in Japan and am all too familiar with natural disasters. The eruption of Shindake merits serious attention – but since I have not received the Prime Minister's advice to be "as concerned as possible" I'll simply wish those self-defense forces good luck against their fight against their pyroclastic enemy.